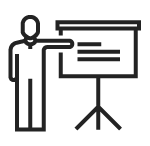 As any public speaker will tell you, telling a story is one of the best ways to obtain and retain your audience's attention. Learning how to tell a story with your content can be the difference between a boring, low-traffic blog and a blog that receives many visitors, even months after the post has gone live. Telling a story with your content allows your readers to get to know you a little bit more, as you reveal yourself and your company slowly, story by story. When you write strong stories with your content, you build relationships that were not in existence and strengthen relationships that had been stagnant. For all these reasons (and even more), telling a story with your content with highly recommended. If you'd like to capture the attention of your audience, learn how to tell a story with your content by reading below.
How to Tell a Story with Your Content
Keep It Real
You're not telling a fairy tale. Be truthful and honest in your storytelling. Be you! Don't overthink it. Try to show the side of your company that insiders see. It probably won't feel natural the first couple tries, and you might not achieve true authenticity for the first couple of months, but don't give up. Just as achieving the right tone for your company takes time and practice, so too with storytelling.
Write Conversationally
Some stories are easier to read than others. Make yours one of the easier ones by writing conversationally. The story you write for your customers should feel like a conversation between two people, as if you're meeting up with a new friend to chat over a cup of coffee. Only in this case, you're meeting virtually with customers and potential customers. 
Select the Highlights
Have you ever read a story where there were so many nitty-gritty details that you couldn't even follow the plot? The way to avoid getting caught up in the details is to select the highlights. Step out of your marketing shoes and put on a new pair – the shoes your customers are wearing. What information is vital for them to understand what's going on? What details will help make the story real, but without needlessly bogging them down? To help you with this, write colorfully…
Write Colorfully
You'll help your writing to stay vibrant and exciting by writing colorfully. When you include colorful words, you are able to say more with less. The details you do share in your writing become that much more valuable when paired with colorful turns of phrase. Paint a picture with your writing to help your readers see the artwork that is your content.
Remember Your Purpose
You're telling a story with your content in order to better connect with your audience. You're telling a story to help prove the value of your business to your clients. Storytelling is fun, but it serves an important purpose, too. Don't forget that as you begin drafting your next story!